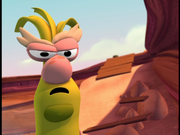 Charlie Pincher is one of the Scallions in VeggieTales. He made his first appearance in The Star of Christmas.
His has a big pink nose, bushy eyebrows, and originally had five-o-clock shadow. He also lacks a full set of teeth, only having one at the bottom center of his mouth.
Trivia
Charlie Pincher's voice in The Star Of Christmas was different from later on.
Ad blocker interference detected!
Wikia is a free-to-use site that makes money from advertising. We have a modified experience for viewers using ad blockers

Wikia is not accessible if you've made further modifications. Remove the custom ad blocker rule(s) and the page will load as expected.