Emily Evert is a scallion girl in VeggieTales. She is one of the Veggie Kids who gets interviewed in some episodes. Emily is mostly seen with her brother, Dirk Emily's favorite food seems to be raspberries, said in "God Made You Special." She then makes several cameo appearances, in "It's A Meaningful Life."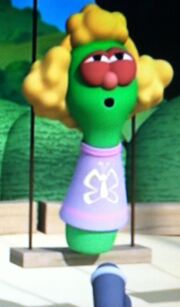 Appearance
Emily Evert is a small green scallion, Her eyelids are colored dark pink, while her small nose is light pink. She grows light blonde hair and is usually seen wearing a purple and pink shirt with a white butterfly.
Acting
Herself in "God Made You Special"
Herself in "Silly Little Thing Called Love"
Herself in "It's A Meaningful Life"
Herself in "Happy Together"
Herself in "Princess And The Popstar A Story Of Trading Places"
Herself in "Merry Larry and the True Light of Christmas"
Herself in "Celery Night Fever"
Herself in "Larry-Boy and the Non Gentle Giant Robot: A VeggieTales Movie"
Ad blocker interference detected!
Wikia is a free-to-use site that makes money from advertising. We have a modified experience for viewers using ad blockers

Wikia is not accessible if you've made further modifications. Remove the custom ad blocker rule(s) and the page will load as expected.