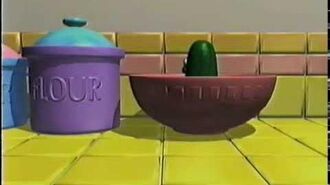 Mr. Cuke's Screen Test is an animation test featuring VeggieTales character Larry the Cucumber that was created in 1991, 2 years before the first VeggieTales episode was released.
The animation test was created by VeggieTales co-creator Phil Vischer. According to Visher, on the commentary on "Where's God When I'm S-Scared?", the test was the very first piece of VeggieTales animation featuring the first VeggieTales character ever made, Larry the Cucumber.
The short is said to be 12 seconds long and just has Larry the Cucumber (or Mr. Cuke as he was known back then) looking off center at the camera and smiles and then hops around on the kitchen countertop. This would soon be the center stage for Bob and Larry during each VeggieTales episode.
See also
Ad blocker interference detected!
Wikia is a free-to-use site that makes money from advertising. We have a modified experience for viewers using ad blockers

Wikia is not accessible if you've made further modifications. Remove the custom ad blocker rule(s) and the page will load as expected.