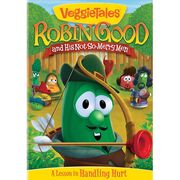 Robin Good And His Not-So-Merry Men is a VeggieTales episode released in 2012. It's lesson is about handeling hurt.
Plot
Far away in a land called Bethlingham, the greedy Prince John takes advantage of the absense of his brother, King Richard. He steals all the ham from the city's people. When Robin Good's men retaliate by robbing from the rich, he refuses to join them. But then the prince captures his friends. Can he overcome his hurt in time to rescue them and restore the townspeople's hope? Includes the bonus episode, "Lenny and the Lost Birthday."
Trivia
Ad blocker interference detected!
Wikia is a free-to-use site that makes money from advertising. We have a modified experience for viewers using ad blockers

Wikia is not accessible if you've made further modifications. Remove the custom ad blocker rule(s) and the page will load as expected.