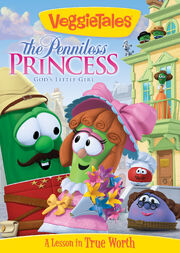 The Penniless Princess: God's Little Girl is a VeggieTales episode set to be released on August 14th, 2012. It is based on the story "A Little Princess". Its lesson is on true worth.
Story
Sweet Sara Crewe has everything a little girl could want - a loving family, lots of friends, and a closet full of frilly dresses! But when life takes a turn and Sara goes from riches to rags, will she realize that her true worth lies not in what she has, but what's in her heart?
Gallery
Ad blocker interference detected!
Wikia is a free-to-use site that makes money from advertising. We have a modified experience for viewers using ad blockers

Wikia is not accessible if you've made further modifications. Remove the custom ad blocker rule(s) and the page will load as expected.