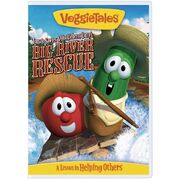 Tomamto Sawyer and Huckleberry Larry's Big River Rescue is a VeggieTales episode. It's lesson is helping others.
Plot
Join Bob and Larry for this lesson in helping others! Tomato Sawyer and Huckleberry Larry's life on the lazy river takes a turn for adventure when they help a stranger in need. With unexpected twists around every bend, they discover that while helping others may not be the easiest thing to do, it's always the right thing to do!
Ad blocker interference detected!
Wikia is a free-to-use site that makes money from advertising. We have a modified experience for viewers using ad blockers

Wikia is not accessible if you've made further modifications. Remove the custom ad blocker rule(s) and the page will load as expected.