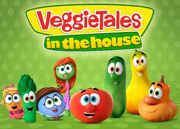 VeggieTales in the House is a new VeggieTales series on Netflix and DVD. The series will include new designs and animation incorporated with DreamWorks Animation.
Behind the Scenes
In 2009, Netflix made many VeggieTales videos (in their uncut, original formats) and feature films available via their video streaming service. On March 14, 2014, Netflix announced a new VeggieTales television show from DreamWorks Animation Television entitled VeggieTales In The House.[4] The series is scheduled to premiere on Netflix November 26th, 2014, according to the Veggietales official website. Big Idea has also published VeggieTales books and music CDs and branded items such as toys, clothing, and garden seeds for vegetables and flowers.
Gallery
Trailer
Ad blocker interference detected!
Wikia is a free-to-use site that makes money from advertising. We have a modified experience for viewers using ad blockers

Wikia is not accessible if you've made further modifications. Remove the custom ad blocker rule(s) and the page will load as expected.