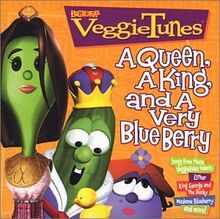 VeggieTunes 3: A Queen, A King and a Very Blueberry is the third CD released by VeggieTales. It has 18 great songs from the videos Madame Blueberry, King George and the Ducky, & Esther... The Girl Who Became Queen.
Track Listing
I'm So Blue
StuffMart Suite
Salezmunz Rap
Thankfulness Song
On the Beautiful Blue Danube
I Love My Duck
I Must Have It
There Once Was a Man
The Selfish Song
The Battle Prelude
Haman's Song
The Battle is Not Ours
What We Have Learned
Ad blocker interference detected!
Wikia is a free-to-use site that makes money from advertising. We have a modified experience for viewers using ad blockers

Wikia is not accessible if you've made further modifications. Remove the custom ad blocker rule(s) and the page will load as expected.